Sports
Former Pro Wins FIFA 22 Tournament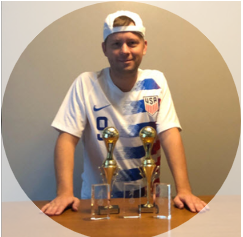 A recent weekend tournament set up through EGL (Esports Gaming League) was won by former Cape Cod Crusader, Keith Simpson, with a resounding 3-0 win in the final. In the early 2000s, Keith Simpson was a non-virtual professional soccer player in the USL with the Cape Cod Crusaders, where he played for three seasons. Now he has apparently made the switch to the gaming chair and has had some success in the electronic soccer circuit.  
The FIFA tournament was setup and joined by some higher ranked players in the FIFA 22 Esports Gaming League site. Going unbeaten, Keith only had to win four matches to be crowned tournament winner. He only gave up 1 goal in the tournament but likes to think of his team as an offensive team first.
Apparently, this is not Keith's first taste of success in the soccer virtual world. He was an early adopter of Extreme Soccer, a futsal style soccer game currently available on steam. He became the number one player in the solo division and held onto that position for quite some time. His love for futsal, which is a type of indoor soccer played with a smaller size ball, actually came much before the game Extreme Soccer caught his eye.
He was signed to be in the first major league Futsal league in the United States. Unfortunately, the league folded before he even got the chance to get started.
After the tournament, Keith stated that this or next year will be his final year in the FIFA series, as he already has hung up his virtual boots in Extreme Soccer. It will be fun to see if other professional athletes, not just soccer, continue their career in the virtual battlefield of their professional sport and enjoy the same success.