Entertainment
SpotHerld Actor Spotlight with Actress Alyssa Corella from the newly released Psychological Thriller RESET.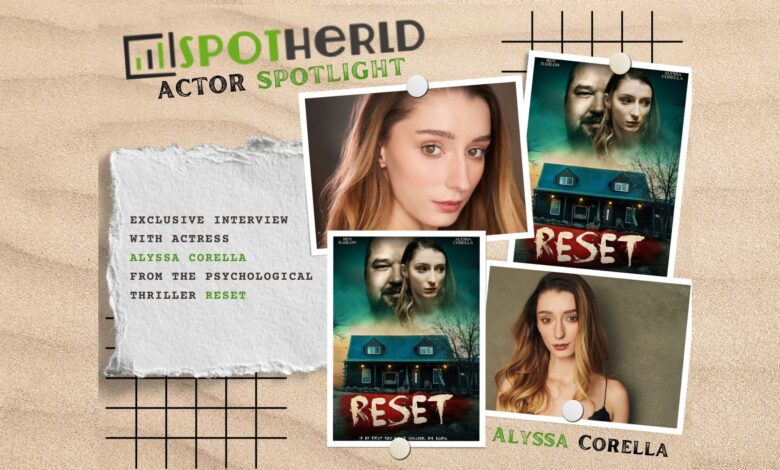 1. Can you describe what influenced you to pursue a career as an actor?
Ya know, I was one of those kids who always knew what they wanted to do. At the age of six, I told my parents that I wanted to be an actor, and now 19 years later, that still hasn't changed. I think even though my parents were both engineers, they were one of my biggest influences for pursuing this career. They put me in every sport and every activity (I was bad at most of them haha) but I always went back to acting and performing.
2. What do you feel is more important for an actor, talent or training?
TRAINING!!! I always loved to act- doesn't mean I was always the most talented kid in the room. Actually, you can talk to my high school theatre director and I probably wouldn't even be in the top 5 most talented kids in the room. But I loved it. And I loved learning. I went to an arts High School which then turned into a college degree in theatre which turned into still going to an Acting Studio in LA on a weekly basis. It's a skill, and the training never stops. I tell anyone who wants to start acting to get in class- acting may feel like a solo journey but it's quite the opposite.
3. Which types of acting do you feel you are most suited for?
Interesting question- I used to say, dramatic work only- I would never touch anything comedic because I was worried others wouldn't find me funny. Now I know that it's not a matter of being comedic or dramatic, but it's a matter of just being you. If you be you, then people are going to buy into that. I would say top types of shows I would love to act in would be: Bridgerton, Euphoria, Stranger Things, the list goes on.
4. What steps do you take to fully understand the importance of your character to the story?
I think I looked very closely to how Dani was the same as me and how she was different from me. This had been the longest script for a film that I had worked on up to this point where I was in 99% of the film so I also had to look closely to the arc of the story so even when we filmed most of the script out of order, I knew where my character was in her arc of her story. If that makes sense haha.
5. Who do you consider to be your acting role model whose career you would like to emulate, and why?
I don't know if I can just think of one- but some actors who have shaped me at different point in my life would be Johnny Depp during the younger years, Emma Stone during my teen years, and now Florence Pugh as an adult. (Along with many more!) I would say what all of these actors have in common that I love and strive to do the same in my own work would be how bold they are in their acting and as people, and how unapologetic and free they are in the work. I'm in awe.
6. What is the first thing you do to research and approach a role?
I have a somewhat of a similar answer to question number 4. In addition to that answer I would say that because I theatre training I had In college, we had to really dive into given circumstances and details like where we are, who are we, how do we feel about the people around us, how do we feel about ourselves. I think that was a big focus for me when looking at my role in this film- Dani doesn't like herself very much at the beginning of all of this. I think a lot of us can relate to that. So not only is this film about gore and dying (over and over and over again- I think I died in this film 13 times?) But it's also about who she turns out to be by the end of the film.
7. Describe your most challenging role to date
hmmmm. Maybe Catherine in Proof? It was one of my favorite roles to play in college, but it was one of my first bigger roles at the time (She basically never leaves the stage) and she is really struggles with a lot throughout the show. That is a role that I really want to do again now that I am the same age as the character, with a lot more life lived now than when I first did it.
8, Which film would you most like to have been in and in which role?
This is so hard. There are too many. Top three would be Elsa in Jo Jo Rabbit, Sam in Perks of Being a Wallflower, and maybe Jo in Little Women the movie.
9. What music inspires you to create?
It really depends on what type of role I'm working on. I love 80's music, Birdy, and John Vincent iii, T Swift, But there are definitely more. My favorite song is "Come on Eileen" by Dexy Midnight Runners and that always gets me in such a joyous mood.
10. What is next for Alyssa? Any new projects in development you want our audience to know about.
Just finished up with two shorts that I am really excited about. The Gig and Power Day which both were filmed this year and are being submitted to film festivals as we speak! I also am in the early development phases of create a feature with some dear friends of mine. The new lesson that I am learning in this stage of my life, is to not wait for someone to cast you so that you can create – do it yourself and the blessings will come. That's what David did when creating this film- and so a huge congratulations to him for that!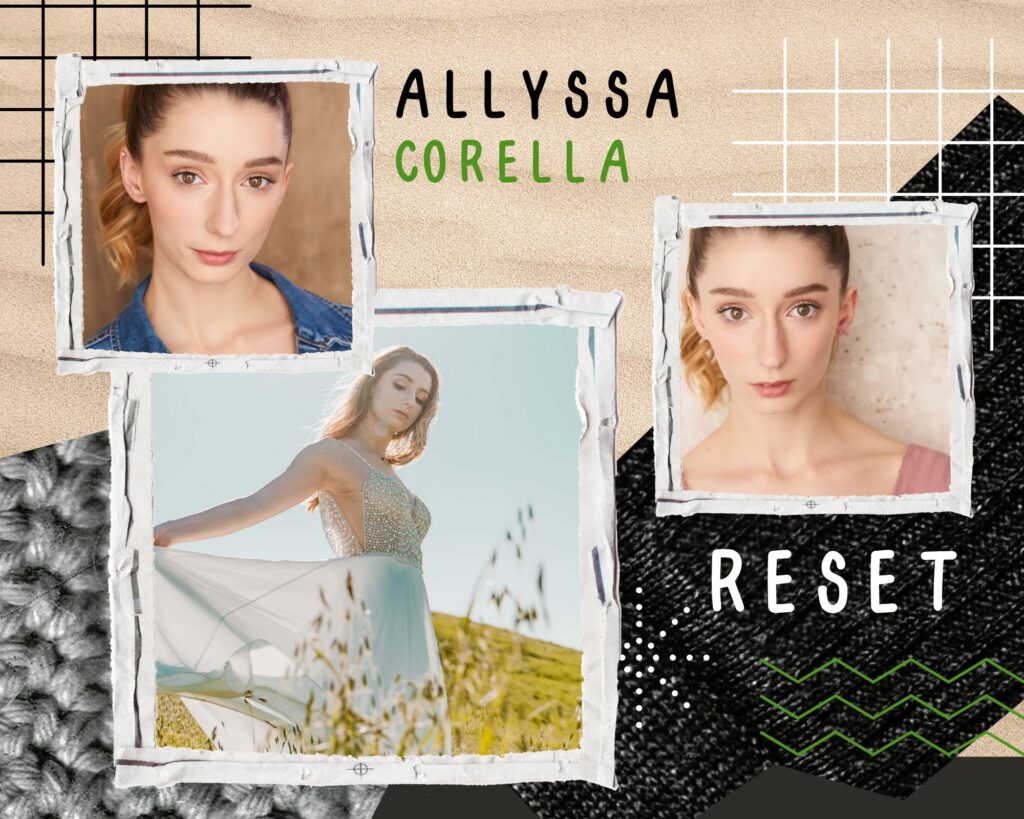 Indie film supporters, check out Alyssa Corella's latest Psychological Thriller RESET, distributed by Midnight Releasing.
SYNOPSIS: Getting ready to graduate, Danielle attends a house party where she passes out and unwillingly wakes up in a spare bedroom of a cabin. The cabin owner, Edgar, seems nice but it becomes clear that his intentions are anything but benevolent.
Stream today on Vimeo
https://vimeo.com/ondemand/394163
Stream on Vudu
https://www.vudu.com/content/movies/details/ReSet/2084413
Links to share:
IG: @alyssacorella
Attention bloggers and pod~casters, for follow up interviews with Filmmaker and Actress Alyssa Corella, contact Sharry Flaherty of Samera Entertainment at: