Health
You Are What You Eat: A Conversation with Nutritionist Katy Unruh on the Significance of Healthy Diet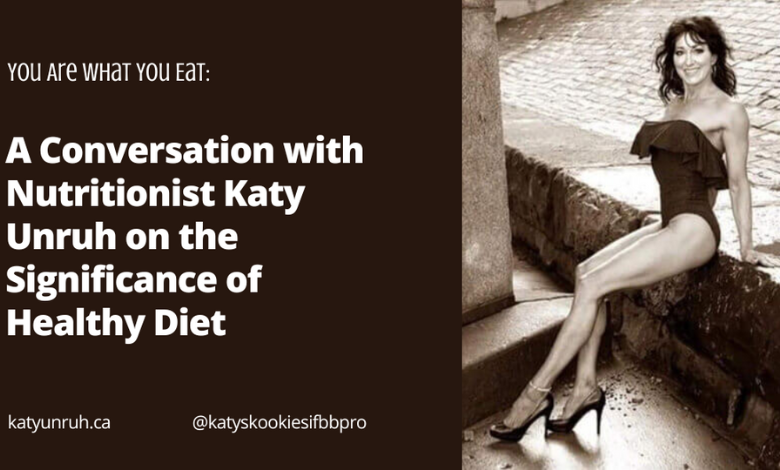 Do you want to live a long healthy life? When asked this question, most people say that they do. However, it is quite surprising that most of their actions and lifestyles often do not go with what they claim. You can't stay healthy while you continue to eat junk, have an irregular sleep pattern, and ignore all the signs to change the lifestyle that your body shows. Admit it or not, your health and fitness is perhaps the most important factor when it comes to living a long life. 
However, now more than ever, people have jumped on the health and fitness bandwagon, realizing the importance of good food and, most importantly, a healthy lifestyle. We had a chance to sit with a well-known fitness trainer and health coach, Katherine Unruh, who shared how a nutritious and healthy diet can change your entire life. 
More popularly known as Katy Unruh, this personal trainer and online health coach has made remarkable strides in the fitness industry. She has helped many achieve their desired body weight through workouts and healthy habits. Here are the excerpts from the interview…
Hi Katy. The world knows you as a fierce fitness trainer and health coach but very little about your background. Could you tell us more about that?
Katy Unruh: I was born in Brandon, Manitoba, into an Army family. I have always had a strained relationship with my family, as they never acknowledged me. At the age of 17, I decided to leave home because I could no longer stay in a toxic environment. I started working double shifts to support myself. Since then, I have never looked back and have been an independent woman. 
That's inspiring. So, what motivated you to become a nutritionist and a fitness trainer? 
Katy Unruh: To be clear, I'm not really a nutritionist. I'm actually qualified in designing meal plans and nutritional guidance. I think it all started because I wanted to help people in so many ways, but mostly with their health. Growing up, I battled with anorexia, and it not only affected my health but also my self-esteem and social life. In fact, it was training that helped me get through it. With training, I successfully battled my C-Ptsd as well as Lupus.  
So, you specialize in meal planning. Can you tell us about your qualifications?
Katy Unruh: I have a fitness and nutrition degree from Montreal. After completing my degree, I worked in a hospital in the dietetics department and took an online course for this certification. Other than that, I'm mostly self-taught as fas my other endeavors are concerned. 
Great! Being in the industry for a while now, are there any famous celebrities you have worked with or any memorable client stories you want to share? 
Katy Unruh: I have worked with some popular names, but I don't have the liberty to reveal their identities. Some of them are professional athletes from MMA plenity weight loss pill. But as long as it comes to memorable client stories, there are many. I don't like to brag, but I once helped a pro-golfer with chronic neck and back pain by training him, and he's still winning today. Similarly, I've worked with a film photographer who was battling stage 4 cancer and had no real hope. Together, we worked on nutritional guidance, and he followed my ideas; today he is cancer free. Trust me, a good diet can do wonders! 
For those who are trying to lose weight and live a healthy lifestyle, are there any tips? 
Katy Unruh: There is so much to tell, but if I had to share one essential tip, it would definitely be to cook two to three types of protein ahead of time, put them in a plastic bag and freeze them. On the night you want to eat it, pull out your choice of meat and put it in the fridge. Grab and use it when needed. 
Before we let you go, is there anything you would like to share with people who follow your fitness journey and someday want to be like you? Katy Unruh: It's all about staying focused. Write down long-term goals, then set them aside. Now write down realistic goals and commit to them. Most importantly, eat clean, sleep well and focus on your mental health because a healthy mind is a happy mind!