Tech
Understanding The Concept Of Business To Customer (B2C)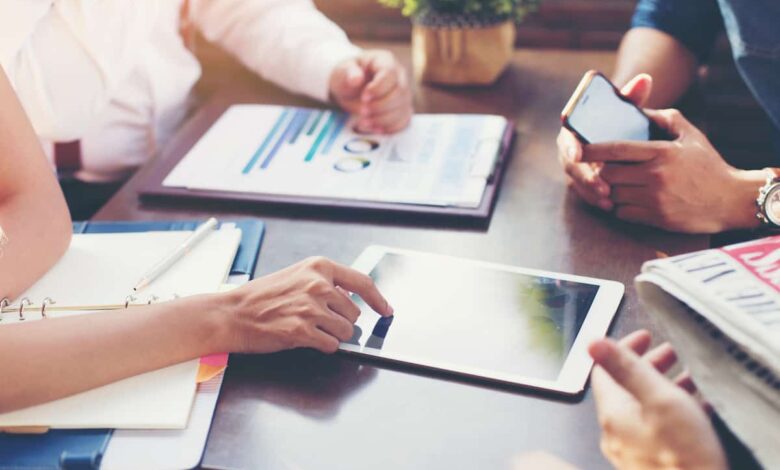 This guide provides comprehensive information about the business-to-consumer (B2C) model, one of the many ways to launch and expand a business. While some companies concentrate on providing goods and services to other businesses (B2B), others focus solely on selling directly to end-users, and some even do both.
We'll outline the advantages of the B2C model and explain why it's often considered the optimal option for beginners who are just starting.
Overview of the B2C Model
The B2C meaning can be explained as business-to-consumer, refers to the direct sale of goods and services from a business to an individual customer. This model is most commonly associated with ecommerce or online retailing, where businesses sell products and services directly to consumers through an online store. Unlike the Business to Business (B2B) model, where businesses sell to other businesses, the B2C model provides products and services directly to end-users.
The rise of B2C can be traced back to the late 1990s, when the first "e-tail Christmas" took place during the 1998 holiday shopping season. This was the first time Amazon surpassed $1 billion in sales, largely due to its focus on serving customers directly.
The rapid growth of B2C online sales has posed a significant challenge to traditional brick-and-mortar businesses that are losing in-person sales to their online competitors. In response, many retail businesses are now establishing their own online presence to remain competitive and offer customers the convenience of online shopping. Some retailers have even started offering in-store pickup or returns for online orders to help customers save on shipping costs.
Selling directly to consumers is a cost-effective way for small businesses to operate, as it eliminates the need for intermediaries that could eat into their profits. By cutting out the middleman, small businesses can retain a higher percentage of their earnings and grow their business more efficiently.
Various Types of B2C Model
In Business-to-Consumer (B2C) sales, there are five commonly used models that businesses can adopt to sell their products or services to consumers. Let's take a closer look at each one of these models:
1- Direct Sellers:
This is the most conventional B2C sales model where consumers purchase products directly from the seller. This could be either through an online retail site of a manufacturer such as Gap or Dell, or a small business that creates and sells its own products. Direct sellers can also be online versions of department stores that sell products from multiple brands and manufacturers. The consumers purchase products and services directly from the seller and usually from well-known brands that have an online store. Direct sellers often have a strong ecommerce presence, as well as a physical store presence. Examples of direct sellers include Target.com, Macys.com, and Zappos.com.
2- Online Intermediaries:
These are platforms that bring buyers and sellers together, without owning the product or service themselves. Examples of online intermediaries include online travel sites like Expedia and Trivago, as well as arts and crafts retailer Etsy. They make it easier for consumers to find exactly what they are looking for by aggregating a range of products and services from different suppliers. Online intermediaries generate revenue by selling advertising to other businesses and the end-consumer is the individual.
3- Advertising-Based:
This B2C sales model leverages high web traffic to sell advertising, which then sells products or services to consumers. This approach uses high-quality, free content to attract site visitors, who then get exposed to online ads. This model requires strong marketing campaigns to generate traffic and improve conversions.
Examples of advertising-based B2C businesses include the Huffington Post and Observer.com. On the B2C side, ecommerce businesses that run ads on platforms like Facebook, Instagram, and Google targeting consumers directly would fall under this category.
4- Community-Based:
This B2C model uses online communities built around shared interests to help advertisers market their products directly to site users. This could be an online forum for photography enthusiasts, people with diabetes, or marching band members. B2C businesses that can target their marketing to specific pain points in these niche communities can quickly start selling products at scale. An example of this model is Facebook, which helps marketers target ads to people based on specific demographics. Social media sites like Facebook get used by consumers to stay connected with friends and family, but also offer opportunities for community-based activities, making it an ideal platform for businesses to advertise.
5- Fee-Based:
These direct-to-consumer sites charge a subscription fee for access to their content. They typically include publications that offer limited content for free and charge for most of it, like The Wall Street Journal, as well as entertainment services like Netflix or Hulu. These businesses sell directly to consumers and require a small monthly fee. An example of this model is Netflix, which sells entertainment directly to consumers for a monthly fee. Some businesses that sell both B2B and B2C may have multiple revenue sources, but this can also divert focus away from their core business.
These are the five common B2C sales models. When choosing a model, businesses should consider their target customers' shopping and buying preferences, whether it be in-person or online transactions. Different models may offer different advantages and disadvantages, so it's important to carefully evaluate the options before making a decision.
Benefits of Business to Consumer (B2C)
Lower Prices: One of the major benefits of B2C business models is that they often offer lower prices to customers. This is due to the elimination of multiple intermediaries in the sales process. By dealing directly with the end-consumer, B2C businesses can offer their products and services at a more competitive price point.
24/7 Availability: B2C in the context of ecommerce provides businesses with the opportunity to generate sales 24 hours a day, 7 days a week, and 365 days a year. With a website or online store, businesses can reach customers anywhere, anytime, and sell their products without any geographical restrictions.
Quicker Sales Cycle: Another advantage of B2C is the faster sales cycle. Unlike B2B, where the sales process can take several weeks or even months, B2C sales can get completed in just a few seconds. For example, if a business sells candles and advertises them on social media platforms like Instagram, customers can quickly make a purchasing decision and complete the transaction right then and there. This makes B2C an attractive option for businesses that are looking for a more streamlined and efficient sales process.
Disadvantages of the B2C Model
The following are some of the key disadvantages of the B2C model:
Limited Catalog Adaptability
It is crucial to be able to rearrange the catalog to accommodate new data and merchandise.
Limited Infrastructure
Despite having a vast customer reach and reaching a global audience, there are still limitations to the B2C model.
Fierce Competition
The vast number of online stores and services creates a highly competitive environment that can put pressure on a company's customer base.
Limited Product Exposure
E-commerce has limited the amount of product exposure available to online shoppers, despite offering easy access and customization options.
Entering a Crowded Market
Many people must conduct proper market research and a B2C campaign to launch a B2C e-commerce business. As a result, they may enter a market segment that numerous e-commerce companies have already established.
Shipping Costs
Shipping fees are a reality, regardless of the size of the order, and clients often expect free shipping in today's e-commerce industry.
Security Risks
Transactional data on a B2C site can be vulnerable to cyberattacks, which can lead to the theft of personal information and unauthorized purchases.