Entertainment
SpotHerld, Discussing the High Notes with Las Vegas Singer/Musician Charlie Burger.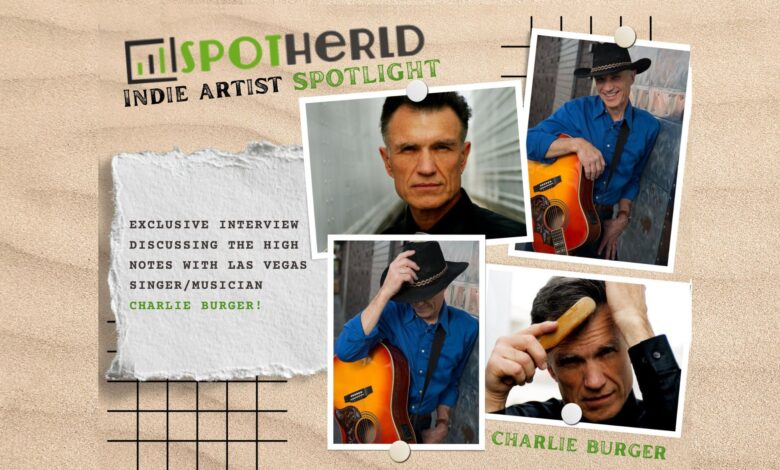 1. What first got you into music?
My mom, who was herself an accomplished fine artist/painter (water colors) and not a musician. She used to play the old vinyls for me because I so loved them. I recall some of my favorites when I was very young back in the 50's – Country (Jimmie Rogers, Sons of the Pioneers, Jim Reeves, Ray Price, Eddie Arnold, Roger Miller, Marty Robbins, Glen Campbell) Classical music; big bands and jazz (Stan Kenton, Glen Miller, Woody Herman, Count Basie, also Louie Armstrong, the Dukes of Dixieland), early Rock 'n' Roll of the 60's and 70's eras (The Ventures, Everly Brothers, Roy Orbison, Kris Kistofferson, the Byrds, John Denver, Beach Boys, The Eagles, Eric Clapton), Blues (Janis Joplin, Blood, Sweat & Tears) R&B/Motown/Soul (Ray Charles and others), Pop and Folk music (Johnnie Rivers, Neil Diamond, Sergio Mendez & Brazil 66, Simon & Garfunkel), Disney and many show tunes, Holiday music, Hispanic (Mariachis, Trini Lopez, Perez Prado). I still have all those original LP vinyl records! I had a wide exposure to different types of music. And my mom and I often used to be there listening together.
2. Who inspired you to make music?
My mother was the principal supporter of my music interests all through my childhood and into my teens, although she never said a word to coax or prod me in any way. She didn't really need to. I took to music and performing for others like a duck to water. She just unimposingly kept me supplied with those LP records right on through to the latter 60's while I was still living at home, got me clarinet lessons when, at 13 years old, I was somewhat of a prodigy at Dixieland jazz. She got me my first electric guitar and amp when I got interested (enthralled is more accurate!) in the guitar. I don't remember ever hearing from my mom any hint of doubt or naysaying or criticism, nor was there any prohibition of my enormous reach to play and perform. I was in my first rock band in junior high school within a couple of weeks after getting that initial guitar and amp. Performing music is not just something that I love and have passion for. I was meant to do this. This purpose came right with me into this life.
3. What is your favorite song to perform?
I have so many, although these are not set in stone, nor are they unvarying, nor is this list even close to all of them. That said, here are some that I especially love to perform: "That's Life" by Frank Sinatra, "The Glory Of Love" by Peter Cetera, "Country Roads" or "Annie's Song" by John Denver, "All Of Me" by John Legend, "A Thousand Years" by Christina Perri, "The Sound Of Silence" and "Bridge Over Troubled Water" by Simon & Garfunkel; "He Stopped Loving Her Today" by George Jones; "Check Yes Or No" and "Amarillo By Morning" by George Straight; "If Tomorrow Never Comes" and "The Dance" by Garth Brooks; "Desperado" and "Hotel California" by The Eagles; "Heaven" and "Everything I Do, I Do For You" by Bryan Adams; "Yesterday", While My Guitar Gently Weeps", "Hey Jude", "Blackbird", "Here Comes The Sun", "Eight Days A Week" by The Beatles; "Pretty Woman" by Roy Orbison; "Chasing Cars" by Snow Patrol; "Cielito Lindo" traditional Mexican song; "Show Yourself" by Idina Menzel; "Let It Be Me" by the Everly Brothers; "I Can't Help Falling In Love With You" by Elvis; "Down On The Corner", "Have You Ever Seen The Rain", "Proud Mary", "Who'll Stop The Rain?" by Credence Clearwater Revival; "I Walk The Line" by Johnny Cash; "Jambalaya" and "I'm So Lonesome I Could Cry" by Hank Williams, Sr.; Pancho & Lefty by Willie Nelson/Merle Haggard; "My Girl" by The Temptations; "Can You Feel The Love Tonight" and "Circle Of Life" by Elton John; "You Were Always On My Mind" and "On the Road Again" by Willie Nelson; "Only You" by The Platters; "O Holy Night", "Silent Night", "Jingle Bell Rock", "Ave Maria", "The Christmas Song (Chestnuts Roasting)", "Rudolph, The Red-Nosed Reindeer", "Frosty, The Snowman" and "Jingle Bells" holidays songs; "A Whole New World" from the movie Aladdin. Now, that feels like a more truthful answer than trying to pick out just one!!!
4. Who would you most like to collaborate with?
David Pomerantz is one of my favorite performers and song writers. It would be such a joy and an honor for me to be able to be a part of something he was doing musically. His songs include "Trying To Get the Feeling Again" and "The Old Songs" which were recorded by Barry Manilow. His various songwriting projects have amassed a total of twenty-tow platinum and eighteen gold albums.I feel that, if I could rub elbows with him in a collaborative venture, he would help me to move forward as an artist.
5. If you could go open a show for any artist who would it be?
I don't know how to answer this question. It is not something I have done as a solo artist. I think I have more to do before I would consider myself capable of being an opening act for a renowned artist, whether an individual or a group. There probably are some excellent performers whose acts would be complemented by my artistic style and expertise. Knowing me, if I were offered such an opportunity, I would be highly motivated and able to rise to the occasion. Back in 1965 I was in a rock band, "The Chancellors" in Minneapolis, and we had achieved notoriety in the Midwest, with a couple of hit records. We opened for "Kenny Rogers and The First Edition" at the Minnesota State Fair. That is to this day a cherished memory for me. It is very special to communicate with or be in close proximity to a great artist.
6. How do you feel the Internet has impacted the music business?
It has made possible a world-wide Renaissance of the Arts, and certainly in music. One can learn anything at any level about any aspect of music: performers, all genres of music, histories, anything about the cultures and events that fostered the music, any possible opinion or commentary, knowledge of theory and practice, and, of course, endless audio-visual data. It is the library of the ages, a resource to help you realize your fondest dreams. And, you have, potentially, a world stage to perform on if you play the right "chords". "Business" means exchanging a valuable service or product for another valuable, such as money or influence and renown and additional doors opened for expansion. It is a way to communicate on an unbelievable scale into the millions and billions. So, it is an extremely powerful tool or resource.
However, there is nothing quite like a live performance. The electronic and virtual universe is lacking a certain quality of sound and connection from one heart to another. It can so easily become unreal or disconnected in a personal sense. Live performances will always be needed in abundance, and are truly irreplaceable. Furthermore, the internet can be twisted and perverted and used to deceive and trap another, as surely as it can be used for good. One must learn how to discern the good from the evil, especially the evil that hides or is masked as "friendliness". It may be very difficult to sort this out in the illusory world of the internet. It is especially important for the artist to maintain an alert and realistic cautiousness on anything so easily to manipulate for evil purposes as the internet. One must learn how to know who he or she can and cannot trust. There are many vampire personalities who cannot endow things with life as an artist can, and who need to feed off the creative energies and resources of the artist. So, this is a primary knowledge and skill that must be acquired. Otherwise, all one's creative works can be lost or pirated or used for evil purposes.
7. If you could change anything about the industry, what would it be?
I would change the tax laws so those working in the arts would not be burdened and could prosper. I would also make contract laws greatly favor and protect the rights of the creative artist to prosper from his creative works, rather than the lion's share going to the lawyers and business sharks or crooks. I would make people responsible and subject to reversal of punishments for lawsuits against creative artists that are proven to be frivolous and malicious and fraudulent. And I would make the news media of every type responsible for public defamation and slanderous trials done in the media to any artist or celebrity or creative leader. They are the worst blight on society because they manufacture chaos and invent controversies and bad news which they then exploit for profit! They demonize every person who does not fit their pre-planned agenda. They make us lose faith in mankind. Our artists and creative leaders especially should not be used as fodder for a cynical, out-of-control and self-serving media. It's time to put these villains in their place and get out the muzzles and put the worst behind bars. "Freedom of the Press" and "Free Speech" have been grievously abused for many decades to harm and have ruined countless lives for monetary gain and power, especially used against celebrity artists and people of good will who are creating a more aesthetic and peaceful and harmonious world.
8. What's next for you?
I want to establish several good-paying gigs/residencies performing every week in local Las Vegas restaurants or clubs or doing weddings, private or corporate events.
I also want to record all my renditions of songs so that others can learn from my arrangements and incorporate them into their own performances as it suits their own aesthetic tastes and style.
I am also greatly expanding my blog and other efforts to help singer/guitarists learn to become more competent and professional and to perform a lot more. The world needs many people working successfully in the arts – full time! In addition to my own writings and talks, I will be seeking out and interviewing other creative artists, particularly those in the music industry. I have a mission to expand and prosper as a performer, and to help other artists do so, as well.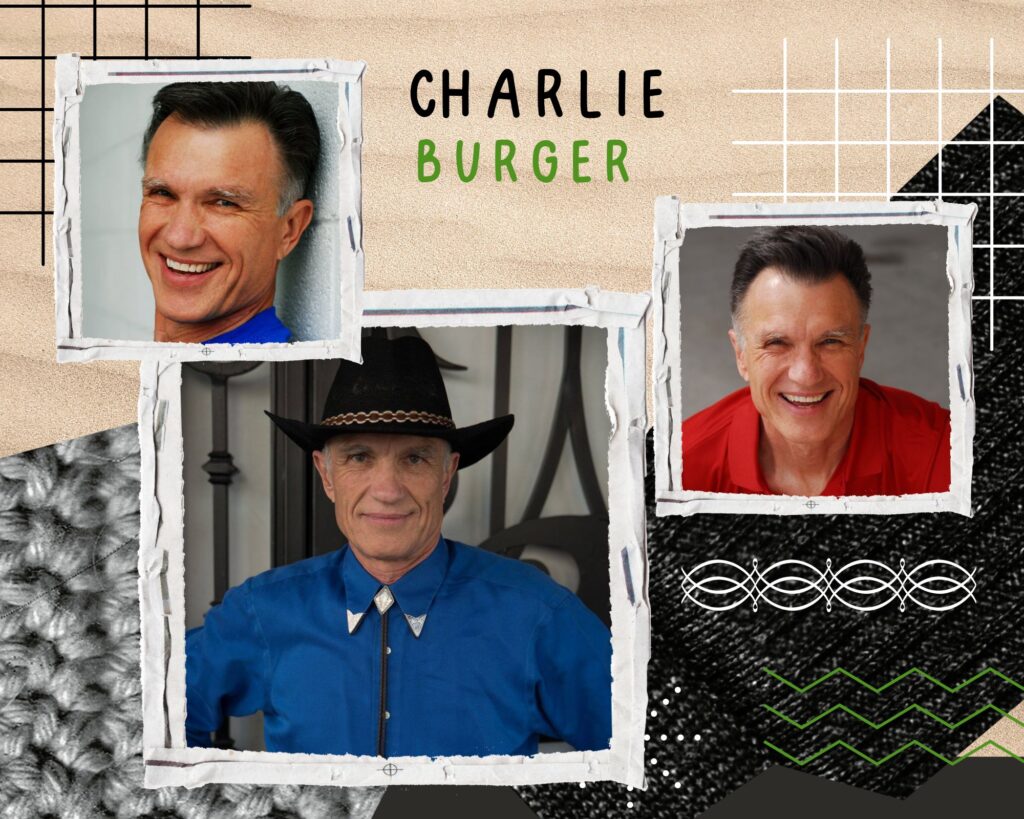 Share any social media links you would like to share with our readers.
CHARLIE ROCKS VEGAS WEBSITE
https://charlierocksvegas.com/
CHARLIE ROCKS VEGAS FACEBOOK
https://www.facebook.com/charlierocksvegas
CHARLIE ROCKS VEGAS YOUTUBE PAGE https://www.youtube.com/channel/UCPwDDCv_Xy5SGJ4lQl-8r8g
*Attention bloggers and podcasters for follow up interview with Musician and Singer Charlie Burger, contact Sharry Flaherty of Samera Entertainment at: SameraEntertainment@Gmail.com