News
5 Facts Everyone Needs To Know About Naomi Lievens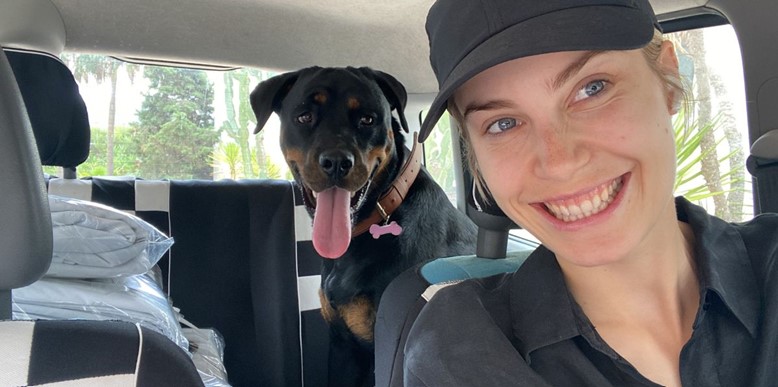 While most people think that the world of modeling is nothing but glamour, the truth is far from it. It's hard work, dedication and of course, talent. You might look at the top models of the world and think that they have it all; a perfect body and a perfect life but let's be honest, models are human beings just like us. Getting to the top is not always a piece of cake for them. Their journey has numerous road blocks too but it's their undying passion that helps them make it to the top.
What makes a model's journey tougher than the rest of ours is the continuous criticism they receive from the world. From their appearance, how they walk, talk, and eat to who they date, how they live, what they wear or their personal life is always a matter of discussion. It won't be an understatement to say that models ought to have nerves of steel to go through that criticism every day. One name that stands out in this cutthroat industry is super model, Naomi Lievens.
An international model who has been a face of renowned brands like Armani, Dolce & Gabbana, Dior, Karl Lagerfeld, Philipp Plein, etc. Naomi has definitely carved a niche for herself. She has collaborated with the biggest brands proving that she is a force to be reckoned with. But there is so much more to her than what meets the eye. Though Naomi had a bumpy childhood, she didn't lose hope and worked hard to achieve her goals. Let's have a closer look at who Naomi Lievens really is behind that camera lens.
Her Childhood Wasn't the Easiest Time
After having to witness her mother's death when she was just four years old, Naomi and her twin brother were sent to live with their uncle. Unfortunately, when she turned ten, she had to face the loss of her uncle too whom she loved dearly. This loss left her completely devastated. Later, she moved in with her aunt who placed her in a boarding school. Having faced so much trauma as a mere child, Naomi wasn't able to communicate well with her aunt and was forcibly sent to a couple of institutions in Belgium for her misbehaviour. But, soon things took a turn; it was during her time in the institutions when she truly discovered herself and became the person she was always meant to be.
She's a Marine Biology Enthusiast
We all know Naomi as the super talented model she is, but do you know that she has a passion for marine biology? Naomi studied marine biology for a year and enrolled into bio-design after that. "I am very fascinated by the power of nature," she explained. Naomi hopes that someday she could incorporate marine biology in her profession. "I have always looked up to Neri Oxman. She is a brilliant American-Israeli designer who creates art with her background in material engineering, design, architecture and biology," she added.
She's A Vocal Mental Health Advocate
Because Naomi had a tough life growing up, it gave her the ability to recognize when someone is going through a challenging time. "I've noticed words are often a distraction from the underlying problems. You learn so much from listening to other people but more from observing how they talk and act," she stressed. Naomi has been through phases of severe depression where the only way out seemed like letting go of life. She had severe mental health problems but her pride held her back from asking for help. Looking back at it, she wishes that her younger self would've allowed someone to help her. But when Naomi became a model, she promised herself that she would use her voice to raise awareness about the importance of mental health. Today, she helps individuals who are stuck in the loop and are facing the harsh realities of life. She has a different way of working with these people. Naomi focuses more on their body language compared to what they say, it helps her understand their deep ingrained problems.
She Helps Abandoned Animals Find Loving Families
Can you believe that this 27-year-old model is an advocate of animal rights? Having rescued four dogs that live with her, Naomi has also found caring homes for numerous dogs. When it comes to shelters, she sighed and said, "Usually, animals are all locked in small cages in the sun without water, the right food and are suffering from skin conditions, intestinal issues, stress and trauma." Naomi's goal is to bring an end to animal cruelty and suffering by finding these abandoned animals homes that provide care and love
She Aims To Start a Humanitarian Organization In The Future
Naomi take great pride in being a model but she believes that her platform should be used for a higher purpose. Apart from being a mental health advocate and an animal rescuer, in the future, she wishes to be able to make greater difference in people's lives. She aspires to help kids and adults get to know themselves, recognize their abilities and be strong enough to support themselves. She believes, that helping others is like helping yourself, because even the smallest good comes back to you in some way or another. Naomi Lievens has proven that models are not just superficial walking dolls with perfect lives. From coming from a troubled background to making sure that people around her feel seen and heard, Naomi is trying to do her best. With each day, she moves forward with positive energy and enthusiasm despite any criticism she receives. It's true when they say that everyone can flow with the current but it takes a real one to turn against it!